Banbury Run 2022
We are pleased to announce that plans are now well underway to hold the VMCC Banbury Run in 2022. A final date of Sunday June 19th 2022 has been confirmed and the venue will be as before at the British Motor Museum at Gaydon, Warwickshire. Please watch this space for news and updates on this event which will be posted here as more information becomes available.
The Banbury Run is only a week away. See below for important announcements about this year's event:
There will be a Zoom meeting on Monday, June 13th at 6.00pm for riders to ask questions about the event. If you have any queries please join the meeting
Registration forms, regulations and other documents are now available (see below).
Camping facilities are available and should be booked directly with Gaydon. Online booking for visitors to the Banbury Run can be purchased here
As always an event of this scale requires a great deal of organisation, administration in advance and volunteer help on the day. If you would like to help as a volunteer or marshal on the day, or wish to assist in the preparation or running of this Premier event, please click here to register your interest. Alternatively contact the Events team at banbury@vmcc.net.

Entries and booking forms for Banbury 2022 are now available. If you are unfamiliar with this event and the various categories of entries we recommend you read the Banbury Run Regulations first to famliarise yourself with the classes and options before starting the registration process.
A commemorative Banbury enamel mug will be presented to each entry.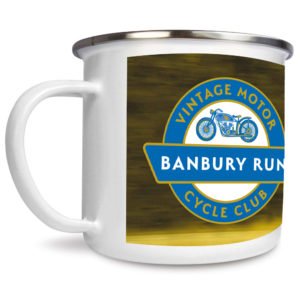 Additional mugs and limited edition commemorative T-shirts may be ordered from the VMCC Regalia Shop, shop.vmcc.net